Training A Dog Is Important
Proper dog training is something that so many dog owners neglect to do.
And that's really sad.
Dog training can be so beneficial, for both you and your dog!
When you train your dog, you are communicating with one another.
By sharing the same language, you and your dog develop a close bond.
By training your dog, you become his leader. You gain his respect and devotion.
A dog that is trained is less likely to exhibit undesirable behaviors such as barking, chewing, and aggression.

A dog that is trained is trusting and secure. He is well-behaved and obedient.
And a dog that is trained is truly free because he is able to go anywhere without the fear that he
will endanger or bother other people.
Please take the time to peruse the dog training information presented on these pages.
With the right knowledge and a little time, patience, and effort, you will have a happy, confident, well-trained dog! :)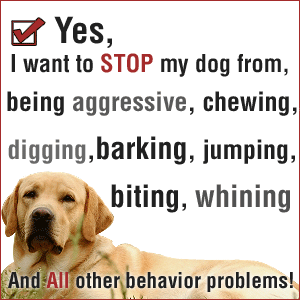 Our Featured Dog Training Article:
Basics Of Dog Training
By Dmitry Belov
Click here to view the rest of our dog training articles